News Alerts
Measles outbreak
Calling all 15-30 year olds

Let's help prevent a measles outbreak in the future. If you are unsure that you have had two doses of the MMR vaccine (measles, mumps and rubella) please let us know and we will arrange for you to have a vaccination.
National Measles Campaign - focusing on the immunity gap for adolescents and young adults.
Taranaki Covid Clinic is on the move
Now located at 8 Kelvin Grove, Te Aro.
Open Monday – Saturday
For covid vaccines and RATs.
Call 0800 450 977 to book an appointment.
Or on Book my vaccine https://app.bookmyvaccine.health.nz/
Loafers Lodge fire
For all those affected with the fire we are here to support you all with your physical and emotional needs.

Flu vaccine is now available
Flu season is here. The influenza immunisation programme runs from the 1st April 2023 to 31st December 2023. We recommend getting the flu vaccine as soon as possible, as winter is the time you are most at risk to become infected with the flu.
It takes 2 weeks for your flu vaccination to be the most effective.
The flu vaccine is FREE for:
Maori and Pacific people aged 55 to 64 years
pregnant people
people 65 years and older
people aged 6 months to under 65 years with medical conditions such as diabetes, heart disease or asthma

and many other conditions. If you are not sure you are eligible for a free vaccine please call the clinic to discuss.

Tamariki aged 4 years or under who have been hospitalised with a respiratory illness or have history of a respiratory illness.
If you do not fit into the criteria group above, the cost for the flu vaccine is $25.
To book an appointment for your flu vaccine or for more information call us on 04 385 0255.
You can find more information about the vaccine here. >


COVID-19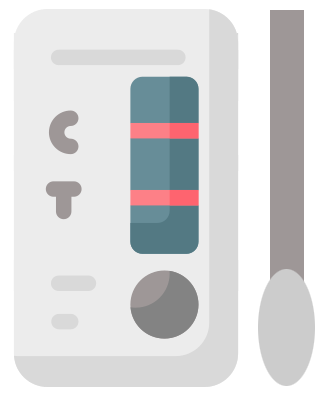 By registering you have Covid, this will enable you to get support at home in the way of food etc while isolating. It also notifies the clinic that you have covid.
If you are having difficulty registering, call the clinic and we can help you to record your details.
Most COVID-19 rules have ended in New Zealand.
You must wear a face mask in healthcare facilities if you test positive.


People at the first instance will be offered telephone consults - if you need to see a clinician in person this will need to be booked. The current COVID-19 response.
Mask wearing in health care- the mandate for wearing face masks in health care facilities has been removed.
At Te Aro Health Centre we encourage you to still wear a face mask when you come to your appointment as you could be exposed to Covid 19 especially sitting in the waiting room.
However, if you have cold and flu symptoms we require you to wear a mask. Please inform the reception staff when you call to make an appointment if you have these symptoms and please do a RATs test before you come to your appointment.
It is recommend you isolate for 5 days if you do have Covid 19 and if you are visiting a health care facility or rest home to wear a face mask for 10 days from onset of symptoms.
We are available for phone consultations.
IMPORTANT Please phone for a COVID swab if any cold/flu symptoms.
We are no longer providing Covid vaccinations at the clinic. If you would like to organise your booster vaccine, please call 0800 282 926 to arrange.
For information on COVID-19 testing see here: COVID-19 TESTING site
For more information on COVID-19 support see here: COVID-19 support and Information


Covid 19 vaccinations
Covid vaccinations are available for all registered Te Aro Health Centre patients. This includes 12-15y olds who have a parent or guardian with them. Please book to make an appointment.
Contact Te Aro Health Centre for details on how to book these appointments for your vaccinations.
Children 5-11 years can get the covid vaccine - Please call Gateway on 0800 28 29 26 to book an appointment or online at Book My Vaccine.
Covid 19 vaccinations – still available to all Maori and Pacifica people over 55 years of age (and their household members).
All those with cold and flu like symptoms are encouraged to have a Covid 19 swab. Please call reception and advise of symptoms and you will be given a time to come to the clinic and given a face mask on arrival.
Unvaccinated patients.
If you are unvaccinated we will in the first instance ask if we can have a phone consultation with you.
If you need to be seen in person we will ask that you make an appointment to be seen at the end of the day this is for the welling being of everyone. Thank you.

The Community COVID Centre
What they do:
COVID tests
Vaccinations
Supply pre booked RATs kits.
You will need to book in. Call
0800 885 022
Before going to a collection site, you must place an order via https://requestrats.covid19.health.nz/ OR free call 0800222478
Wellington Central, 196-200 Taranaki St

Needing help with a problem??
We now have a Health Improvement Practitioner (HIP) working with the team for 2 days a week. A HIP is available to see anyone with a variety of problems e.g. sleep, anxiety, pain, grief, stress, depression, treatment adherence - to name just a few! The appointments are free and often same day appointments are available. Please discuss with one of the staff or call to make an appointment with Mel directly.
Read more about out Health Improvement Practitioner (HIP)

Connect with People